Details:
Gene Ludwig - Love Notes of Cole Porter
As one of the early adopters of the Hammond organ in jazz after Jimmy Smith revolutionized the instrument in the late 1950s, Gene Ludwig enjoyed the massive popularity of organ-based soul jazz during the 1960s. In those days, organ rooms popped up all along the East coast and Midwest, especially in the inner working-class cities like Detroit, Chicago, Philadelphia, Newark, and Gene's stomping grounds of Pittsburgh. Gene worked them all, bringing his swinging style to audiences far and wide. His career behind the mighty Hammond console spanned 51 years, countless gigs, and albums for Atlantic, Mainstream, Prestige, Muse, Loose Leaf, and Blues Leaf.
Gene passed away suddenly on July 14, 2010. Love Notes of Cole Porter represents his last recording session. Tracked in 2008 with a cast of stellar Pittsburgh musicians, it also represents a concept that Gene held dear to his heart; covering some of the incredible songs of Cole Porter, one of Gene's favorite composers, timeless songs written during the golden age of the Great American Songbook era. His loving wife Pattye knew that Gene would want this album to be heard as his swan song and worked tirelessly to produce it for release. In that spirit, Big O Records is proud to issue one of Gene's finest recordings.
Featuring Billy Kuhn and Thomas Wendt on drums, Mark Strickland on guitar, and Lou Stellute on saxophone, and engineered by Pittsburgh local George Heid Sr. in beautiful high-fidelity sound, the focus is all on Gene's deft command of his instrument, honed and perfected over the decades by no less than a master craftsman.
Gene's style always belied his gentle demeanor. He may look harmless at first glance, but when he sat down behind the Hammond B3 organ, nothing but fire and intensity spun out of the Leslie speaker like a preacher spreading his message of joy and hope to the jazz organ faithful. We are lucky to have this last gift of music from a true master of the Hammond B3.


Gene Ludwig - Love Notes Of Cole Porter
1. What Is This Thing Called Love? (6:20)
2. Everything I Love (6:51)
3. I Love You (4:38)
4. Begin The Beguine (7:20)
5. You'd Be So Nice To Come Home To (4:20)
6. Everytime We Say Goodbye (5:59)
7. Rosalie (4:34)
8. Why Can't You Behave? (5:10)
9. Night And Day (5:21)
10. Dream Dancing (7:49)

Gene Ludwig - Hammond C3 organ
Mark Strikland - guitar
Lou Stellute - tenor saxophone
Billy Kuhn - drums
Thomas Wendt - drums
Produced by Gene & Pattye Ludwig for Big O Records

As a special bonus, for just $2 more your order will include a collectible virgin copy of Gene's single Street Preacher pt I & II, originally self-released in 1987 on the Ge-Lu record label. Again, these are unplayed, original 45rpm singles in their original sleeves.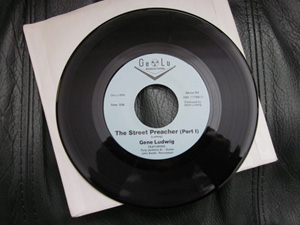 Current Reviews: 0
This product was added to our catalog on Sunday 31 January, 2010.
Customers who bought this product also purchased...